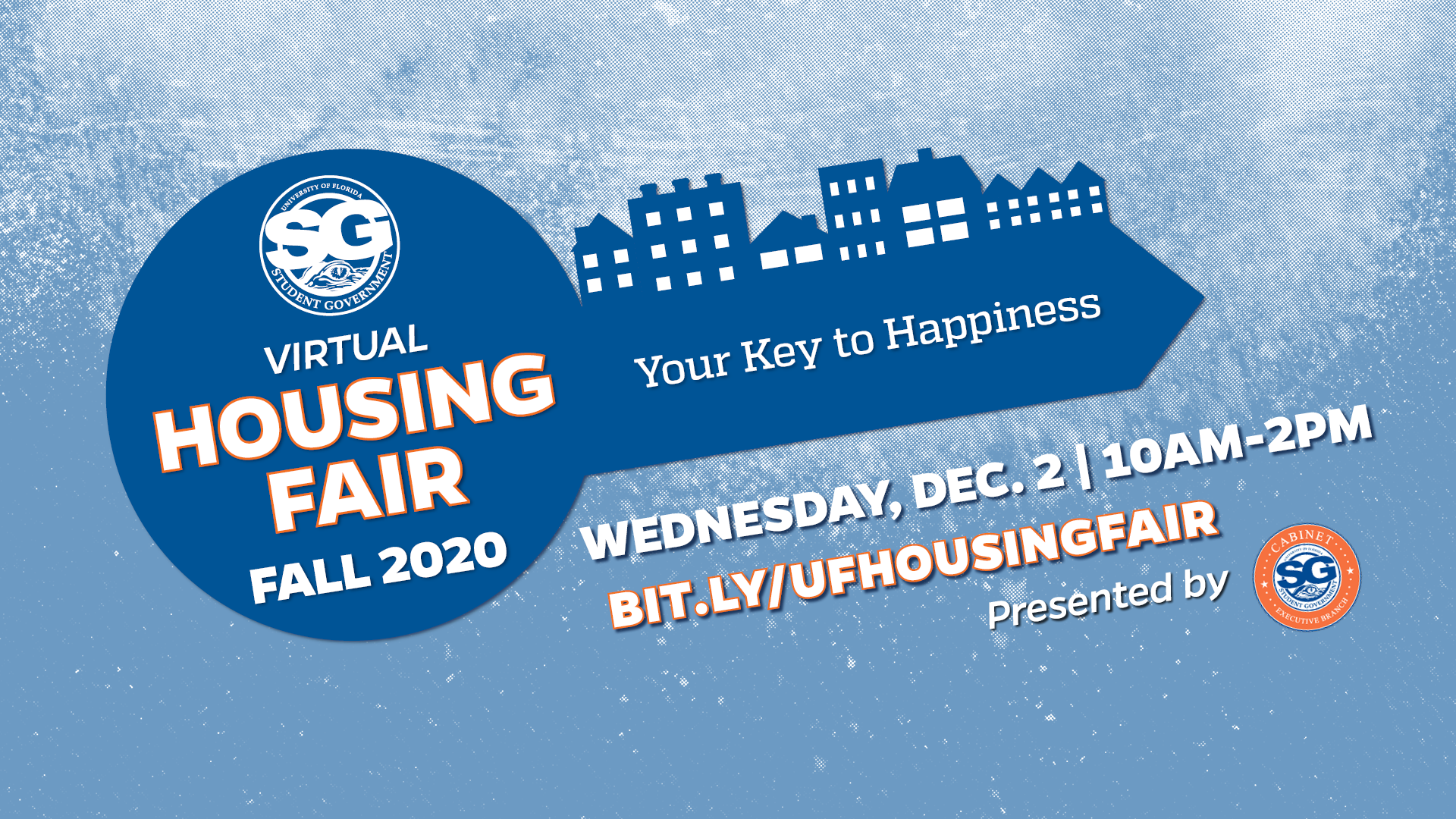 VIrtual Housing Event Details
11 AM – 12:30 PM: Complex Spotlights
Click Here to Join
12:30 PM: Off-Campus Life
Click Here to Join
10 AM – 2 PM: Complex Meeting Rooms
2nd Avenue Center
Aero on 24th
Anthem House
Arlington Square and Wisteria Downs
Atrium Properties
CMC Student Properties
Cottage Grove
Royal Village
Spyglass
The Commons
The Courtyards
The Park
University Club Apartments
Varsity House
Fall 2020 Update: The Virtual SG Housing Fair is Wednesday, December 2nd, from 10 AM – 2 PM.
The SG Housing Fair helps students gain a better understanding of what off-campus housing communities have to offer. The Student Government Housing Affairs Cabinet hosts this event twice a year, once during the fall semester, and the other during the spring semester. The Housing Fair is the largest housing event at the University of Florida.
This year explore off-campus living options VIRTUALLY! Over four hours, communities from all over Gainesville will be in attendance to answer questions and explain the benefits of choosing their communities. This is the easiest way to get familiar with your off-campus living options, and available resources for off-campus students!
The SG Housing Fair is your opportunity to make an impression on thousands of University of Florida students, and partnering with UF Student Government can be very beneficial to your community. The majority of off-campus communities choose to attend our fair, so be sure you don't miss out on this opportunity to connect virtually with the University population!
This year we will be utilizing virtual marketing through Instagram, Facebook, and university newsletters.
Vendors are encouraged to educate students on the benefits of choosing their community. During this time, vendors typically provide information on current rates and deals and answer questions students may have about their communities.
Registration is now closed for the 2020 Virtual Housing Fair